I know I'm a little late to be posting this, but I never got around to it before Christmas. Hopefully you don't mind 😉
As I've mentioned before, I get to do some set design occasionally with my full time job.  It's something I've come to really enjoy doing.Last month before our Christmas vacation, we had an artist come in to play a few songs from their upcoming project. Since it was so close to Christmas, we decided to decorate the room for Christmas. I knew there would be several band members on stage so I knew I couldn't add a huge Christmas tree or anything large on stage, so I just added a few Christmas touches here and there. Let's take a look, shall we?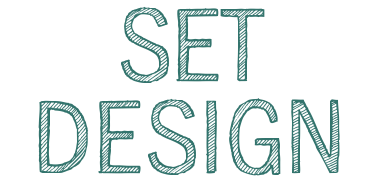 When it comes to these types of events, we're typically working with small budgets. I try and use stuff that we already have, but then also go out and buy some things as well.
One of the first things I did was to create some faux presents.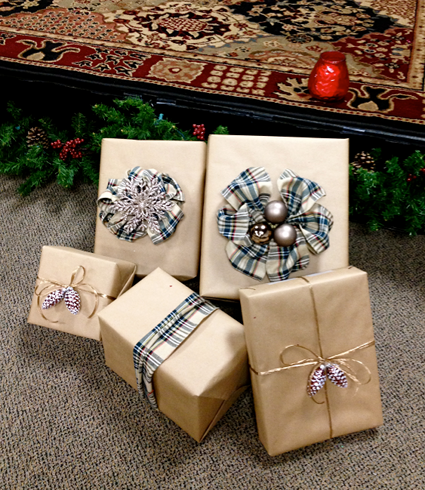 I had several on either side of the stage.

We have torn down boxes in our mailroom, so I taped some empty boxes back up and wrapped them in some brown kraft packaging paper that we had down there as well.
I found this cool flannel ribbon and commissioned my mom to make some fabulous bows to use for the packages. Thanks Mom! 😉

Instead of using the flannel ribbon on all of the packages, I just used some raffia ribbon and attached some pinecone ornaments on a few.

We usually try to bring down some furniture to add to the room (so it's not just full of black plastic chairs). For the coffee tables up front, I knew I would need to add a little something to those. I bought some glass vases and filled them with some assorted ornaments and also some potpourri that had lots of sticks, berries and pinecones. I wrapped the outside with some greenery and attached some additional ornaments on the outside. I also added some candles and ornaments to the tables themselves.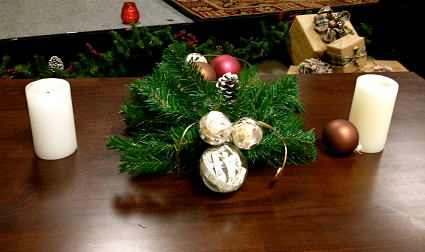 For some of the ornaments, I actually bought some clear ones and stuffed them with cut up strips of sheet music scrapbook paper. Since it was a musical event, I thought that was fitting.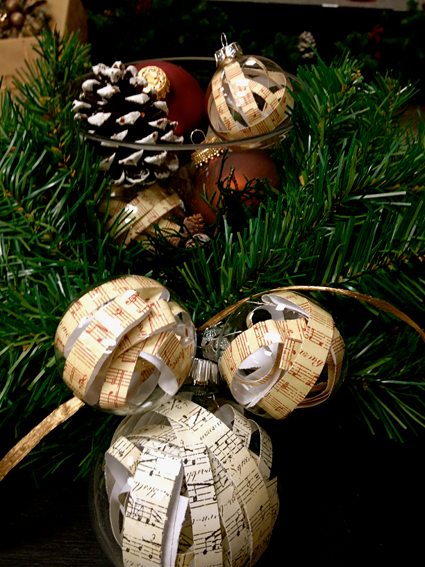 For the stage, I just added some white candles and ornaments on either side.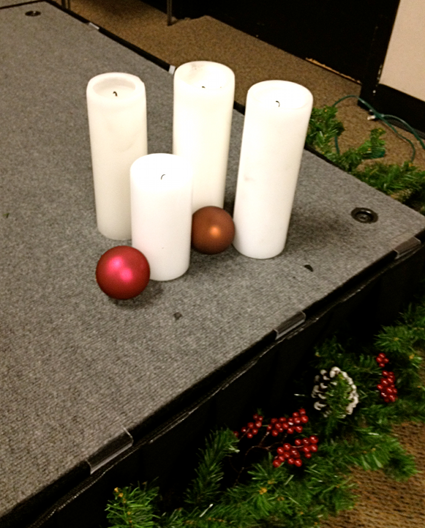 And then on the front I hung some greenery and added some red berries and pinecones.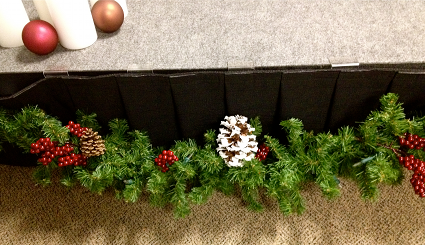 We also have a giant speaker in front of the stage. I added some candles and pinecones to the top and also this chalkboard frame that we found to use for our video room.

Overall, here's a wide shot of what the front of the room looked like.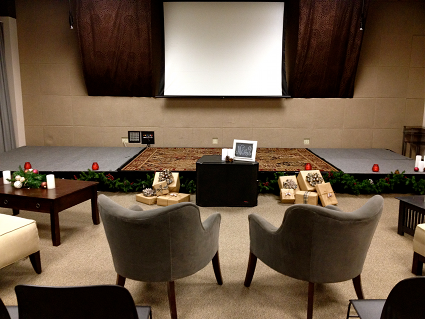 Outside of the room, we had a table with food and drinks. I just wanted to add a small touch of Christmas decorations there too.

I bought two additional clear vases and filled them with the same ornaments and potpourri filling as I did for the coffee tables.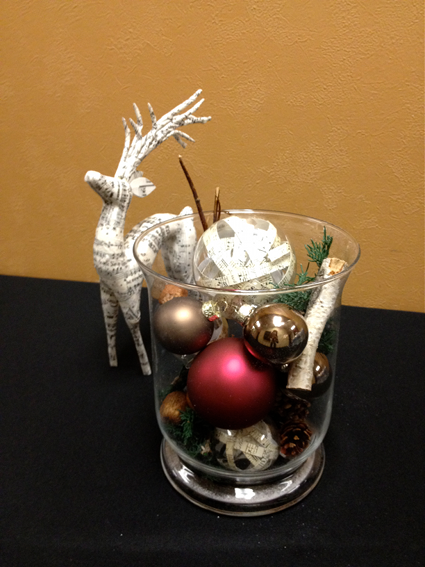 The sheet music reindeer were originally ornaments. I just cut off the string and used it as centerpieces for the table.

I didn't do anything too crazy. Kept it simple. The overall look I was going for was 'Classic Christmas.' What do you think, did I achieve that?
Happy Weekend!
You May Also Like: