Today I have the fabulous Lisa from
L.M. Interiors
to answer the first decorating dilemma submitted for the 
ask the pro
series!
The first question someone had was about decorating a plant shelf::My brother and his new wife have a vaulted ceiling with a plant shelf in their bedroom. What could they put on the plant shelf that's both masculine and feminine? I believe they have electricity at the ceiling since the smoke detector is nearby.
Take it away Lisa!
……………………………………………………………………………..
This is certainly an interesting question and a decorating dilemma many are faced with and  particularly while having to cater to feminine and masculine tastes.
A plant shelf is an architectural element of homes built primarily in the '80s. These are typical of rooms/spaces with vaulted ceilings; sometimes these are found above doorways. For many the dilemma is how to decorate these vacuous "holes." Does one ignore them entirely?


This space should be viewed as decorative as well as an opportunity to use it functionally while keeping the room interesting. How one goes about making this happen should be kind of like choosing and adding art to a wall.


For a shelf such as the one pictured below there are different options one could implement to use the space and enjoy it at the same time. This plant shelf happens to be in the master bedroom.
The few things to keep in mind with shelves such as these is that whatever is placed up there would need to be cleaned periodically; dust will accumulate no matter what. As the shelf is above eye level smaller items will be lost/not be appreciated if intended to be decorative.
With this in mind, these are the options I would consider:
Books

: Whether one is an avid reader or not, books are an easy, inexpensive way to add to decor. Stacks of books lend a homey feel to any space. Coffee table books tend to be more substantial in size and of course, come in a multitude of colors which make them more appealing.
A few pictures just to give an idea of different looks that can be established with books.
I am not necessarily suggesting one use this many in the space.
These, as an example, are a collection of classics. They measure 5″ x 8″ so are not really large but are hardcover, are aesthetically pleasing and can be used at the top of a stack of larger books.


A collection of books can be built over time. This gives an idea of how to stack books – vertically or horizontally. It's like having a small library.
Books with colorful spines and in various sizes and incorporating other decorative items.
Colorful books in various sizes.
Organized by color for some fun.
Another option in this category would be to add shelves such as these to the wall below the plant shelf. Start stacking books here and then on the big shelf above while drawing the eye upward, making it interesting, and incorporating the plant shelf into the look of the room below. Something to think about.
via
Suitcases/Trunks: There are many choices available today, leather, metal or other material. Some of us might have these stored away for travel purposes alone or perhaps a parent or grandparent might have one sitting in a garage or attic from decades ago in decent condition, requiring just a little TLC. Stack two or three (depending on height of shelf) of the same color or different colors, styles, patterns to make it interesting. Use them to store  items one does not need to access often – seasonal items, decorations, extra linen, memorabilia, and so on.
Great example of incorporating books and suitcase with interesting detail.


Baskets/Boxes: These are another option that are functional as well as decorative. If baskets are incorporated into the decor of the shelf these should definitely have a lid as well as be more tightly woven to eliminate the dust factor or decrease amount of dust that might find its way in.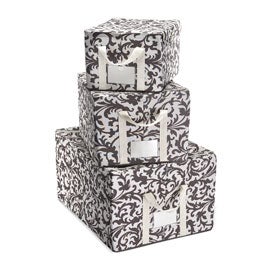 These storage boxes come in various sizes (you do not want them too small) and can be used along with some of the other items listed above to create an interesting space while being used as storage.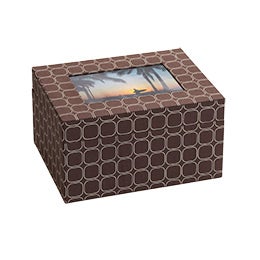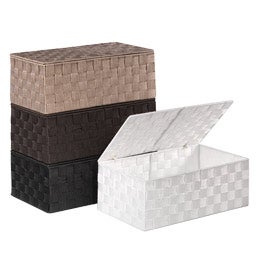 Plants: I had to add this option because, after all, this is a plant shelf. Hanging ivy of some sort or similar plant which requires no light. Weekly watering of plants would be something one would have to do.


Other: One might want to close off the entire space with sliding doors on a track and use it for purely functional purposes (although this would not be permitted in a rental property).
Any decorative objects that would not hold dust but which would be visible and enjoyable from below could be placed here.


The back wall of the shelf space could be painted a different color to add more interest and highlight the items placed there, if so desired.


I came across this picture and had to use it in this post as I thought it would be fun and allow the plant shelf to be more accessible if used. A ladder! Imagine this with books along the wall and on the plant shelf – a real library feel!


Be creative. Have fun with it. Make it interesting by incorporating matching colors or patterns, different sizes, different items. Play around with it. Adding pieces which have curved edges or are cylindrical against more angular items would be interesting as well as lend some balance to the room, walls and shelf with all the angles. And finally, think decorative and functional but most importantly, think clutter-free – do not make the space look like storage space.


I hope this post has been helpful. I know it has me wishing I had a plant shelf in my home. Thank you, Megan, for allowing me to help out with a decorating dilemma.
………………………………………………………………………………………………
Erin, I hope this answers your question! Not only can these tips be used for plant shelves, but also for any odd spaces we all have in our homes that we're not sure what to do with.Thanks so much Lisa for providing your 'pro' knowledge! Be sure and stop by Lisa's
blog
and leave her some love :)We'll be back next Monday with another fab 'pro' to help answer another decorating question. It's not too late to submit your questions. If you still have one just leave a comment on this post!Happy Monday!
You May Also Like: